In this case study we double glazed the original sash windows. This involves installing double glazed units into the original sash. There was also sash window repairs to effect and at the same time we've installed a draught proofing system onto the sashes as well. This was a particularly interesting property as it was the corner building and was part of the old Coach House as far as I understand from the owner.
The sash windows were incredibly well made, and it meant that I was reluctant to entirely replace the sash windows, so although more difficult job, I was more than willing to install double glazed units into these original sashes. The effort was well worth it, when it came to measuring the sashes it was amazing to see that the upper and lower sashes were within a 2mm tolerance. 2mm might sound like a lot, but in the window terms it's pretty amazing that they've been able to manufacture sashes with such accuracy. Given that there's been 100 years of movement and servicing (it means that it's quite likely that these windows were built exactly the same size). Now, don't get me wrong, exactly accurate joinery these days in our comfortable workshop with modern machinery and technology is actually very easy to replicate, but back in the days where they probably built the sash windows on site, and in the dark as well it's a different story. The joinery who put these sash windows together showed some pretty impressive skills of hand making sash windows. With that said, it was totally justified in re-using the original sash windows, not to mention it really helps the sash window price overall.
Furthermore to the justification of using these original sashes and double glazing them to bring up modern standards of thermal efficiency, it was a pleasure to double glaze these windows as they were in such structurally good condition that it made everything very straightforward. There were quite a few repairs on lower rails, but that's to be expected of windows that are over 120 years old. Overall though, the structure of the sashes were in incredible shape which is a testament to the quality of timber a hundred years ago. It's also very nice and sympathetic to re-use you original sashes for the purposes of double glazed sash windows where possible.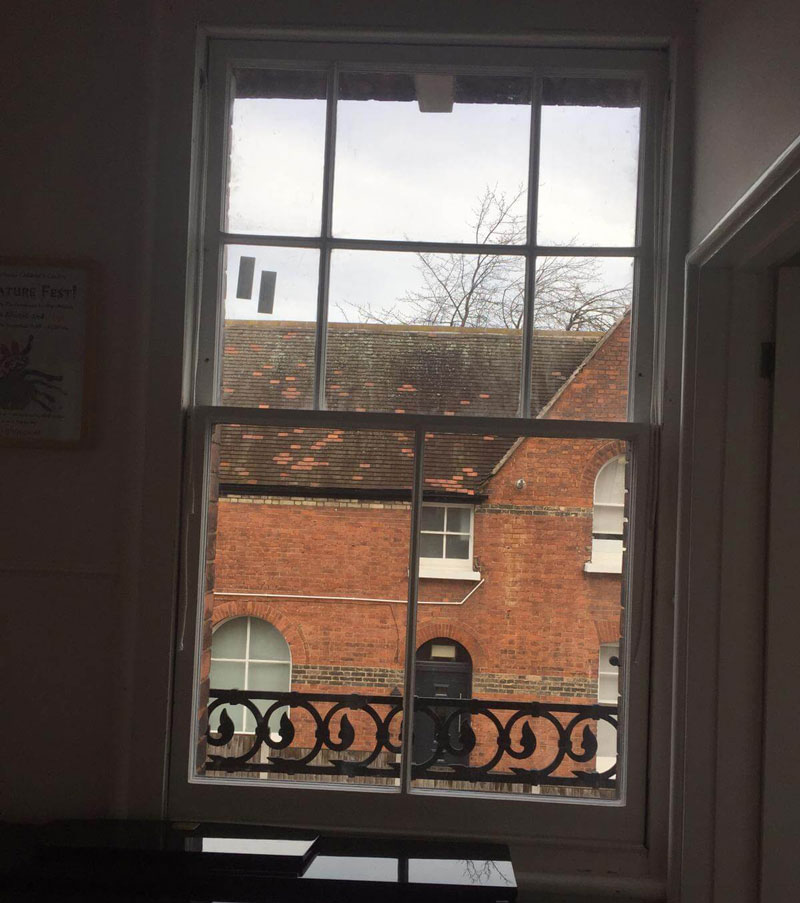 The double glazing process from single to double glazed sashes.
The first part of the process on these Holloway sash windows is to remove the sash from the frame. This is almost the beginning of every single overhaul and draught proof. With the sash is removed we then take out the old single glazing. It was actually a bit of a shame to remove some of this glazing because it appeared to be the old 3mm glass that was originally installed in some panes, with the waves and looked really nice, but unfortunately in this new modern era that we live in of energy efficiency and CO2 consumption, it's just not doing the job anymore. It's almost certain that most properties in London in the next 50 years will have double or even triple glazed sash windows. It's just the new times and a place that we're moving too. So the loss of this glass, whilst sad, is almost inevitable as we progress.
With the glazing removed we then knockout any of the old putty and remove any pins. This is so that are rebate cutter stays sharp. A good cutter helps us keep a nice, clean, crisp cut on the sash itself. This lends itself to a better looking finish overall at the end of the project and less damage to the sash through the process. The rebate cutter we use will allow us to cut a significant rebate into the original sash. This rebate is designed so that the timber that we remove will hide the black section of the unit. It is then hidden behind a neat glazing bead but more on that in a minute. This essentially will give us a nice looking sash window double glazed when finished. The aim is to keep things looking as single glazed as is possible.
Fitting the double glazed unit into the original sash
With the rebate cut, we can now look at installing the new double glazed unit into the original sash, the first process is to measure the glass so we make sure it exactly fits as it should.
When we are comfortable with the measurements will then bed the unit down with either something known as frame seal or an external grade sealant. We don't use putty because, although probably better to use butyl putty, as sealants are far more efficient and bond the sash to the glass much more quickly. Frame seal will actually bond the double glazed unit to the sash overnight. Putty on the other hand could take several months to take hold and if you have any movement then it might never bind properly.
Where we've made an extra cut into the sash it's really important that we make the sash structurally good and firm. This is resolved by using a high quality sealant to bond both together.
After the unit is installed and bedded in we then install the external glazing be to the sash. Much in the same way as not using a face putty because of the time it will take to set, we use an external glazing bead because it's neat and straight and gives perfect lines. As well as installing the glazing bead for these perfect lines, we use glazing bead because it makes far more sense in terms of security too.
As we have already mentioned installing the unit with a beading with a bonding agent such as frame seal will leave the unit structurally safe within 24 hours. Overall, it's just a far better way of handling the windows. The other problem with using putty is that it would take at least a month to get a solid face putty that we could actually paint. This obviously doesn't work out if we've been instructed to paint the windows as well.
With the glazing bead installed we now carry out any making good to the sash. Rebating them on site is quite a destructive process and there will be a fair bit of making good that needs to be done so we use a two part polyester based resin which serves to hide any blemishes on the sases. We use this high quality two part resin because it also bonds extremely well to the sash and we don't have to run the risk of any cracked or loose filler on the original sashes. Once it's sanded and untouched in it starts to come together. As you can see in the picture below you really can't tell from a distance that these windows have actually been double glazed at all.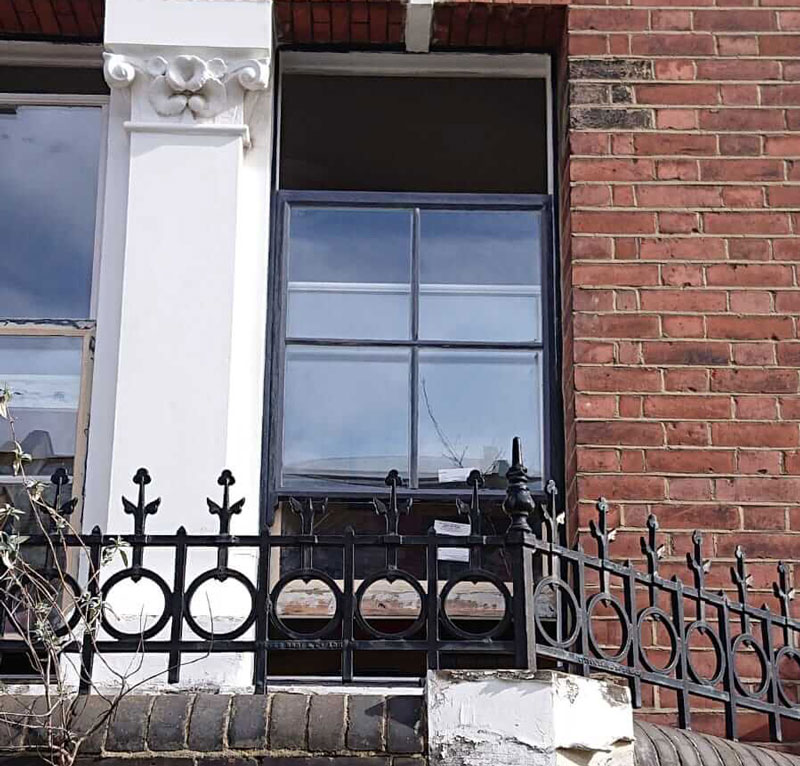 Rebuilding the glazing bars on double glazed sash windows
With the Sash window now double glazed we install the glazing bars back onto the Sash. If you have a lot of glazing bars then we can run them down and laminate the original glazing bar on the inside, and much in the same way as we make our new sashes. We then laminate the external glazing bead to the glass. This gives the effect of having more than one pane of glass and keeps the window looking exactly original.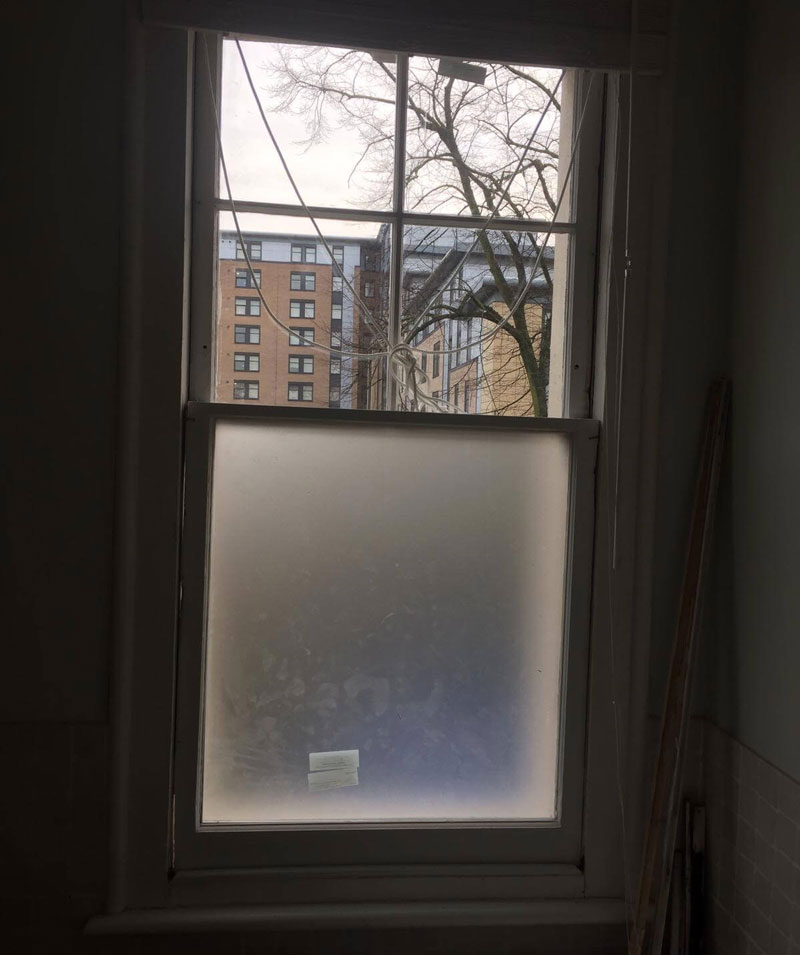 At this stage if we are instructed for a full decoration job as well, we will begin the process of painting the sashes. Depending on what level the sash are in your property, it will determine the job order. If you're windows are high up then we will put the top coat on before we before we rebuild the sashes with the draught proofing system. Of course, any sash window repairs such as sash window sill replacement are carried out first. However, if you're on the lower floors it makes sense to paint after. It makes far more sense to rebuild the window and hand over to our decorator who will make them look very nice from here in situ.
As I say, this completely boils down to whether your ground floor or or higher. It's a misconception that having the windows out is better for decoration. Having the windows out is much easier to decorate a sash window, but as per City and Guilds standards, decorating a sash window in situ is perfectly adequate and the norm. You should never really be painting behind the frame anyway, because all you'll end up doing is painting the window shut. This is obviously counterintuitive and you don't want to get yourself in a situation after spending all this money where you can actually paint your windows closed after a couple more maintenance schedules down the line.
So it's important, to ensure that you actually only paint what you can see on a sash window when it's open and of course the lower bar when the windows are a couple of inches open so that it matches in with the rest of the sash.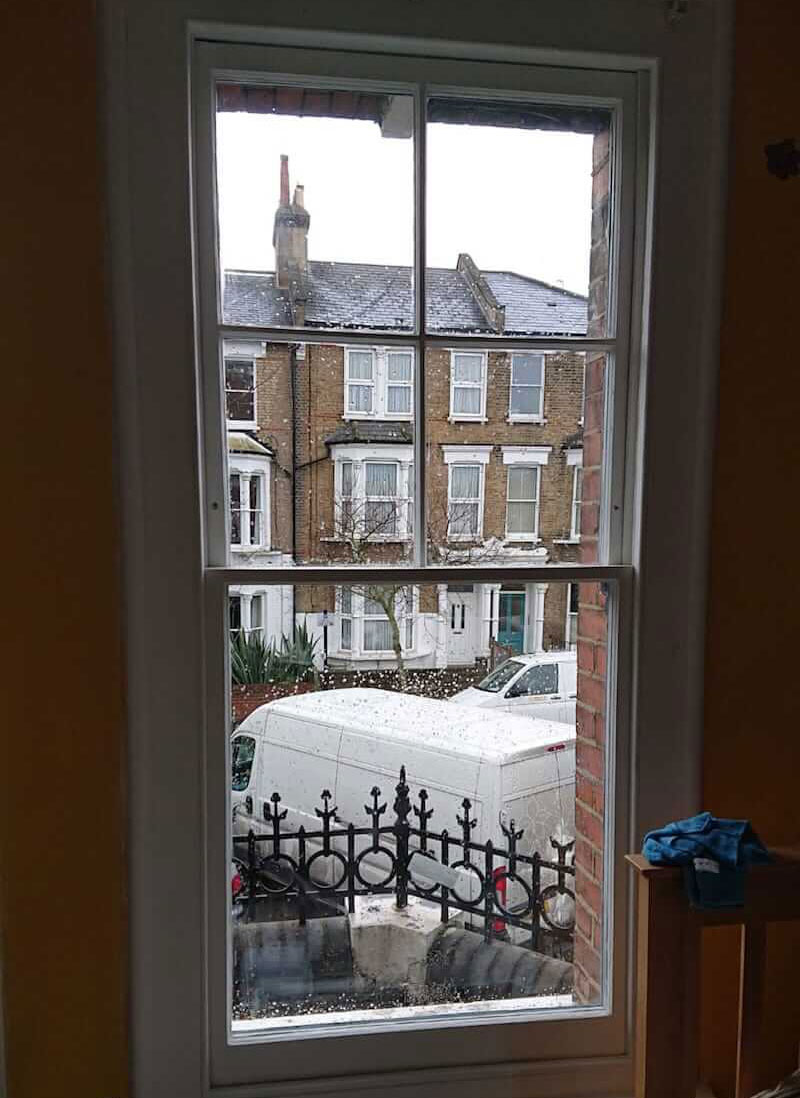 With the windows in and built and decorated then it's time to pop the furniture on, as you can see in the pictures the windows look great, and you could barely tell that they've actually been double glazed but rest assured they'll be doing the job of keeping the noise out and will also help to stop condensation. Whilst this service won't leave your windows looking brand new, they look neat and tidy and of course if you're the kind of person expecting brand new windows then you probably wouldn't have bought an original Victorian property anyway. It makes no sense to have brand new when the rest of the property itself isn't. That said, if you are expecting a brand new window finish then please take a look at our replacement sash windows because that would be a far more effective service for you. Of course, our new sash windows come out looking clean and perfect.