I learnt something rather interesting this week when a customer enquired about new double glazed sash windows. They contacted me because of an incorrect install approximately a couple of years before they purchased their property which incidentally held the sale up for quite some time. You must have your window paperwork in order, it's a requirement for purchasing a property. Entire new double glazed sash windows should conform to the building part-L regulation and must be signed off by building control. As part of the entire property refurbishment project they were not supposed to touch the sash windows. They were simply supposed to repair them. Instead, they completely replaced the the sash windows including frame, and I suppose unfortunate enough to get caught(I highly do not recommend breaking the rules, especially when following them with a Fensa or Certass certificate on new windows is so easy and we can provide the correct paperwork anyway). The conservation officer spotted the fact that they replaced them and it became an issue. To be fair, the new sash windows themselves are actually a pretty good like-for-like effort but if you replace a sash window entirely in a conservation area they must conform to the building regulations(building part-L) and meet the required U-values, it's a simple as that.
I had no idea at this point secondary glazing sash windows was the answer!
What I found rather interesting was the fact that the conservation officer was quite happy to look at alternatives to removing those sashes as they were a pretty good match for the originals. Now, I don't want to get into any legal rant/battle here so I just want to be clear that I'm not really advocating anything on this article other than the fact that I'm just sharing my experiences of an install and how the council reasonably thoughtfully handled it.
Again, I just want to be clear that I'm not really advocating anything on this article other than the fact that I'm just sharing my experiences of a sash window install and how the Islington planning council were very amenable and sensibly handled the situation to sign it off. Genuinely before assuming the worst with the council and sash windows, this was handled well in my opinion.
To help understand what's going on here, and before we go any further into the secondary glazed sash windows solution, let's be clear about the new install window certification. Fensa and Certass work for the government on this. They are not the authority here, the government planning department is. There's no wiggle room on this, they follow strict criteria set out by planning. They certify window installers so we can self certify our installs on behalf of the government planning department. What this means is (in layman terms) I can guarantee that our windows meet all the requirements set out in building control Part-L, nothing more, nothing less. The middle men just ensure we are doing the correct work and report back to the government. I thought clearing that up will help you understand how this install was signed off with secondary glazed sash windows rather than the spec of the installed window itself by the council directly. They have the casting vote on this and luckily in this situation sensibility prevailed to save thousands of pounds and unnecessary work.
How secondary glazed sash windows solved the issue
When the refurbishment team installed single glazed sash windows like for like in a conservation area they created an issue for the property. In a conservation area you still are required to follow the government building part-L regulations on new sash window installs. So what this means is they should have actually installed double glazed sashes that meet the U-value requirement, and normally to meet the building planning requirement you would need to install a 4-12-4 double glazed unit and this would need to be with Pilkington low-E glazing, as well as Argon filled. This would generally give you the overall U-value required to make the install correct.
Where they have install single glazed sash windows and they didn't even have a draught proofing system the U-values were a mile off. And the conservation officer absolutely well within his rights and correctly did not pass the install. It's actually incredibly poor that they didn't install at a minimum a draught proofing system on these single glazed sash windows. They also should have correctly researched the rules with regards to building part-L or contacted any window professional for clarification, we offer this advice for free as you can see.
I don't know the exact details of how secondary glazed sash windows worked here
So without knowing the ins and outs of the details I would presume that the planning officer gave them two options. The first option would have been to entirely replace the sash window and install double glazed sash windows in keeping with the conservation area look that met the energy efficiency requirement. The other option of course that was pretty good, was to have secondary glazed sash windows installed. This of course is more than enough to meet the required U-value over both windows. Now I don't know if this is a stand alone case because the actual sashes that they installed were pretty sympathetic and almost match the originals identically, or a broad policy that we can consider possible for meeting the entire building part-L regulation going forward.
Here's a look at those windows, there's nothing wrong with them at all:
Let's be clear about this, single glazed sash windows with secondary glazed sash windows would definitely meet the energy efficiency requirements so I can see no problem with this myself but it doesn't strictly meet the terms set in building part-L for the external window. Perhaps the rule needs adjusting here?
There was another option perhaps. This would have been to have manufactured new sashes and install them into the new, existing frame that they made. This would all boil down to whether or not there was enough depth in the frame to do this. On top of that, you could have potentially installed double glazed units into the original sash (as we did in Islington recently) but I highly doubt that you would have got a full width unit required to meet building part L into the original sash itself. It's far more likely that manufacturing new double glazed sashes into the new frame already fitted would have made sense. Had they spoke to a window expert, they would of clearly pointed out that the prices between double glazed sash windows into the existing frame and secondary glazed sash windows are pretty similar. To install a 20mm double glazed unit into a sash window typically you need around 40 mm of depth as an absolute minimum and this assumes that the sash is hardwood. Here's a picture of those lovely sash: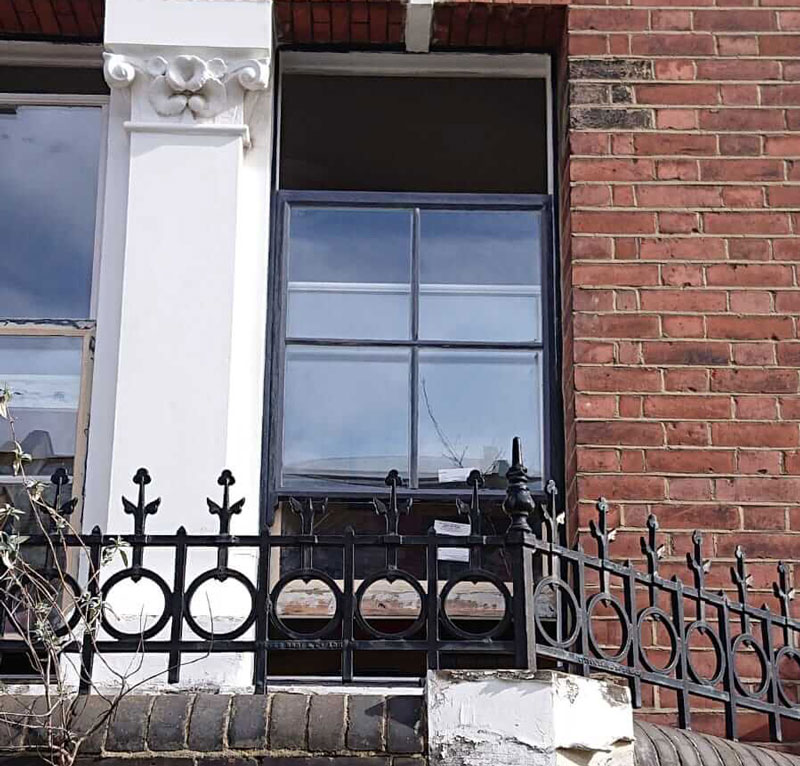 Don't forget about draught proofing when installing a new sash window, if there are gaps around the sides of the frames then there's no way that your sash windows will meet the U-value required and the windows will be noisy and not soundproof. It's absolutely essential that all sash windows that are newly installed have some form of draught proofing system, the most commonly used systems are a flexible rubber seal and the brush pile. As you're probably aware, if you've read my website then you'll know that we prefer the brush pile generally because we do far more in terms of refurbishment. Brush pile lends itself much more to windows that aren't entirely square and seal the gaps on uneven sash much better. The rubber works very well on perfectly square new windows. Of course, in London that's not always easy to find square windows especially when you're working with the existing frames for example. I would go as far as saying if your original window is square then it would be the anomaly! Here's an interesting article on windows that are out of square and wonky that's worth a read.
Let's find out if secondary glazed sash windows can work as a broad solution?
Over the coming weeks when I have some ten minutes free during office hours I intend to contact Islington Council and establish if this is a one off and should be handled case by case, or something that they would actually consider as a reasonable method to meet the required energy efficiency and sign off on installs. This is a considerable step forward from my perspective, because a lot of people don't like double glazed sash windows, and would rather keep the original look at the front of their property however accurately matching our replica double glazed sash windows. Secondary glazed sash windows don't look great but they do a job and definitely protect the external look of a property.