Sash window draught proofing won't improve every single sash window in London and might just be a big waste of money. By considering carefully which sash windows are very cold and do require work will lead to considerable savings. A key example – why draught proof your bathroom? You open this window so frequently anyway,
Many customers come to us to improve condensation on sash but draught proofing will only increase this because you trap warm air inside and the cold on outside causes further condensation to form. If you want to fix this problem you'll need to double glaze your sash windows.
Also, there is plenty of issues to consider when sash window draught proofing. If you can work them out then your home is certainly going to get warmer and hopefully at minimal costs.. I will go through all issues and pitfalls in this article.
We should always remember that draught proofing sash windows is a brilliant product that works wonders improving the overall temperature of our home if installed correctly, but there are negative effects to consider before we install homogeneous seals all around our home, after all, Victorian period properties were never designed to be free of air flow and there are a few concessions to be made in order to improve the comfort of our home!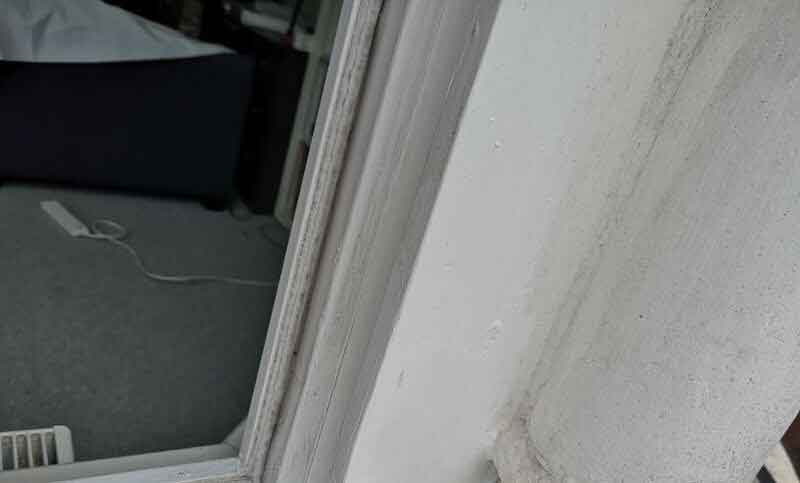 Armed with the right information you can make your own mind up on what makes sense then! You'll also have a far better understanding of when you might want to draught proof your sash windows, and maybe which ones to leave out. This will help you save money on the overall costs of insulating your home given a deeper understanding of what sash window draught proofing will mean to your property including maintaining it.
1. Try sash window draught proofing before you buy it!
Yes you really can try sash window draught proofing before you buy it and accurately know if it's worth the investment to you. Simply purchase a roll of low tack masking tape and seal up all the joints between timber and sash, all along the meeting rails, around the parting and staff bead, and the head of the window. Note this will take 30 minutes or so but with a draught proofing now costing around £300 a window if you can get such a price these days from a reputable sash window repair specialist. It must be worth your while to try before you buy!
Once you've tapped all the gaps, listen for the improved noise reduction and then pop the heating on and stand by your window or bay. Does the heat hold much better and you feel a continual building in the temperature? If you like it warmer and this is happening then draught proofing is definitely the right thing for you and your home.
Here's a look at a beautifully maintained sash window draught proofing system: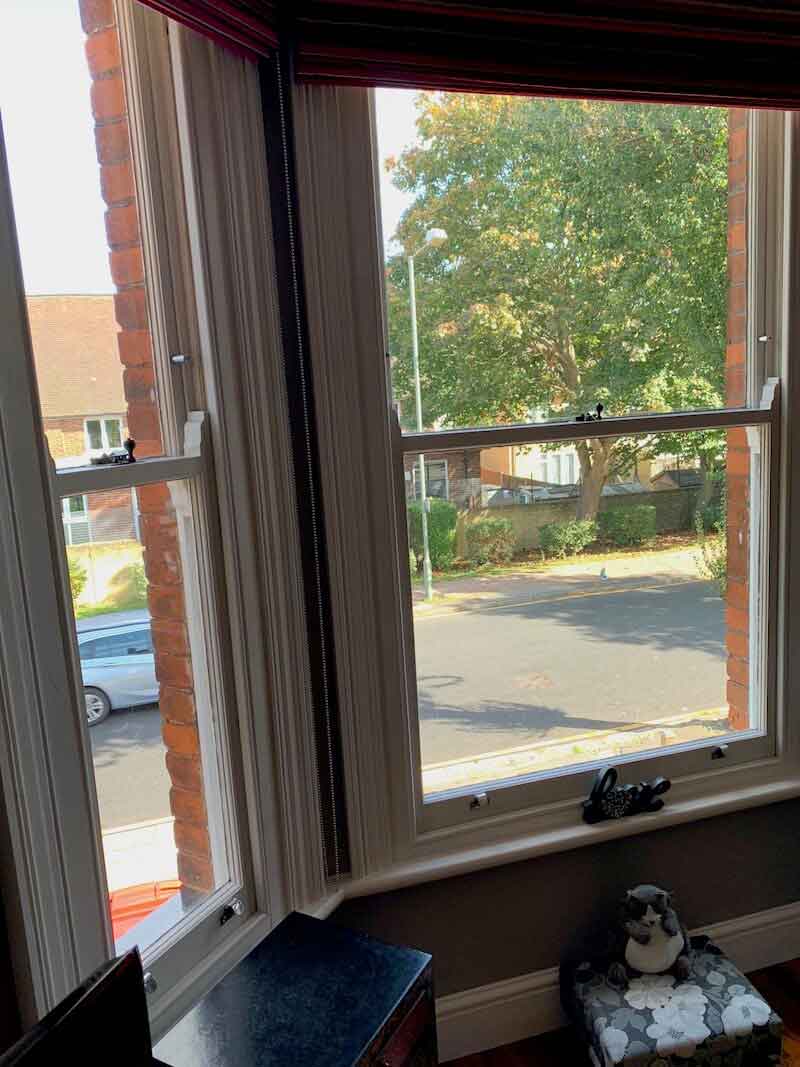 PLEASE, remember to use low tack masking tape and not something sticky that'll leave a nasty residue or it'll spoil your paintwork, something we discuss in more detail further down the article. Likewise, don't leave the masking tape on for too long or it'll also leave a residue, albeit much easier to clean than sticky tape, we want to avoid any unnecessary work if at all possible.
2. Sash window draught proofing will actually increase condensation forming on your glazing.
The reason condensation forms on glass is that when we breathe out, we emit moisture and this moisture is now trapped by the draught proofing system. It might also be the drying of clothes, or steam from a bath, it's always environmental. Condensation may have already been forming without a draught seal which will only make matters worse when one installed. Since the air inside is warmer than outside, condensation will form on our single glazed windows.
If your windows were already a bit cold and completely saturated in moisture when you wake up in the morning, then the problem will be even worse with a draught proofing system.
One solution in this instance would be trickle vents. You have to question why you would install a sash window draught proofing system to then retrospectively fit a vent to allow draughts in!
If you're looking to solve condensation issues properly then most definitely you should be looking at wooden double glazed sash windows. Whilst wooden double glazed sash windows won't remove the moisture from the air, they will stop the moisture forming on your glazing. Here's a look at a beautiful double glazed sash window that no longer suffers from condensation issues: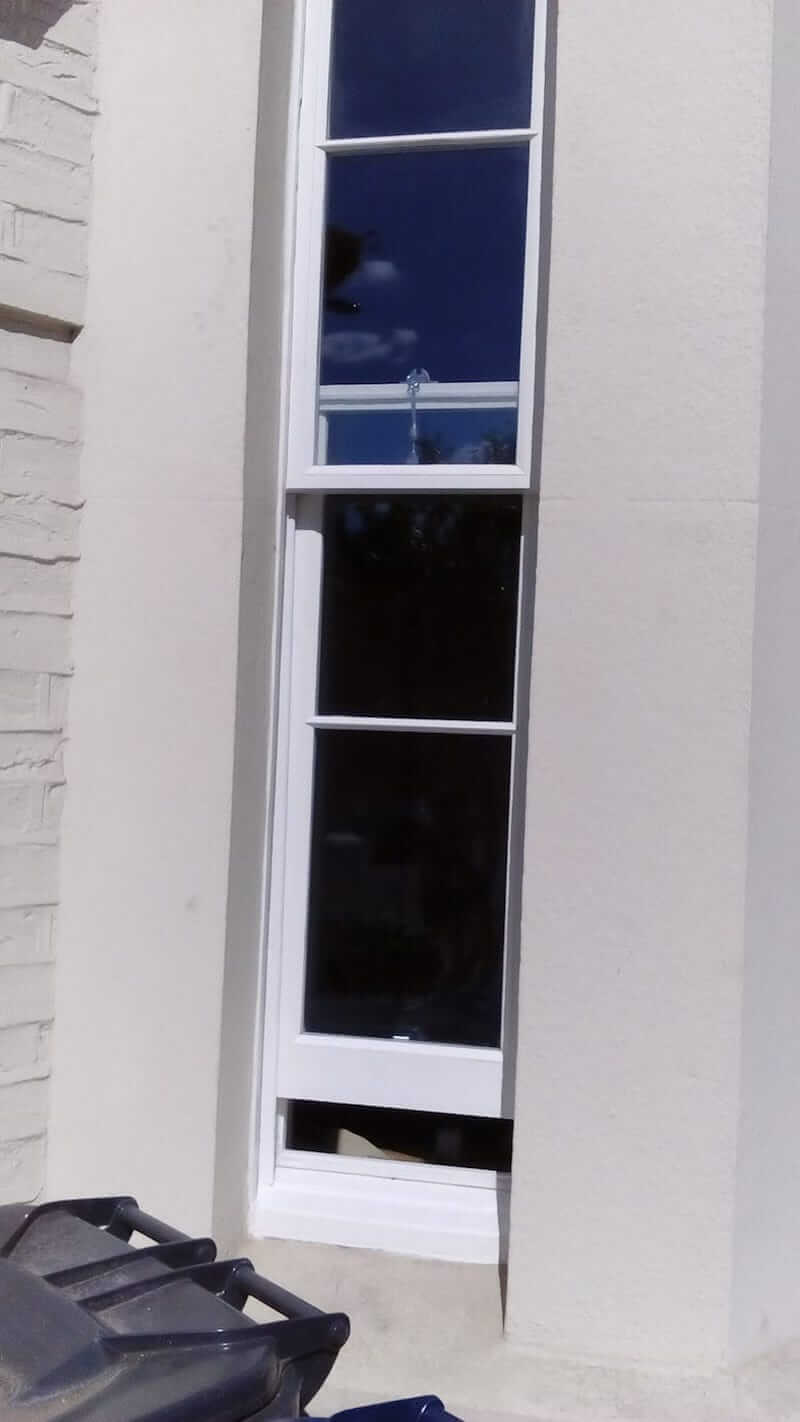 The air cavity filled with Argon inside the double glazed unit is normally enough to completely minimise or eradicate condensation forming on sash windows. Please note, at some point you should open your windows to release this moisture, just probably not while you're tucked up in bed and enjoying additional warmth!
3. If your sash windows are fairly well sealed or completely sealed and it's still cold then sash window draught proofing won't help.
If your sash are well fitting and you don't feel much in the way of cold draughts near your windows then it's unlikely sash window draught proofing will do much to help you. Large surface areas of glass do cause a room to be cold.
Generally speaking, if you have a whole wall of glazing(so imagine your bay window folded flat), wooden sash window double glazing like for like is far more suitable and will certainly improve the warmth in your room. The downside of course is the cost, but better to avoid sash window draught proofing and save up if it's noting going to have the impact you'd like!
Here's an example of a bay window that I've referred to as a whole wall of glazing, Where the sides are already fixed and the central sash is quite tight, draught proofing alone won't change things that considerably.
You can probably picture that folded out would pass either side of the wall.
4. Freshly decorated sash windows will need at a minimum a good touching in after.
If you've just redecorated your sash windows it'll have come at considerable expense or use of free time. Sometimes draught proofing a freshly painted window just isn't worth the investment. I've been called hundreds of times where windows have been painted prior to repair. The homeowner or developer realises they should of had a draught proofing system first. In almost all cases these windows are left alone. Given the costs it's pretty sensible to do so.
If you factor any good decorator is charging a minimum of £250 to decorate a sash window. Then consider the cost of the draught proofing £300 and upwards. Now add the cost of at a minimum touching in which will be £120 a window. This might be even more than the initial cost if the window was fixed in by many layers of paint. Removing the sash will crack paint and damage frames. Costs just adds up to too much money to retrospectively install.
For landlords with draughty windows this might be a necessary cost. Given the new energy ratings you need to absorb this outgoing. As a homeowner logic dictates to get some very nice heavy lined curtains. Then look at draught proofing in five or six years time when the fresh paintwork deteriorates. At the very least, some nice shutters designed to minimise draughts if you aren't a fan of curtains.
Here's a freshly decorated sash window: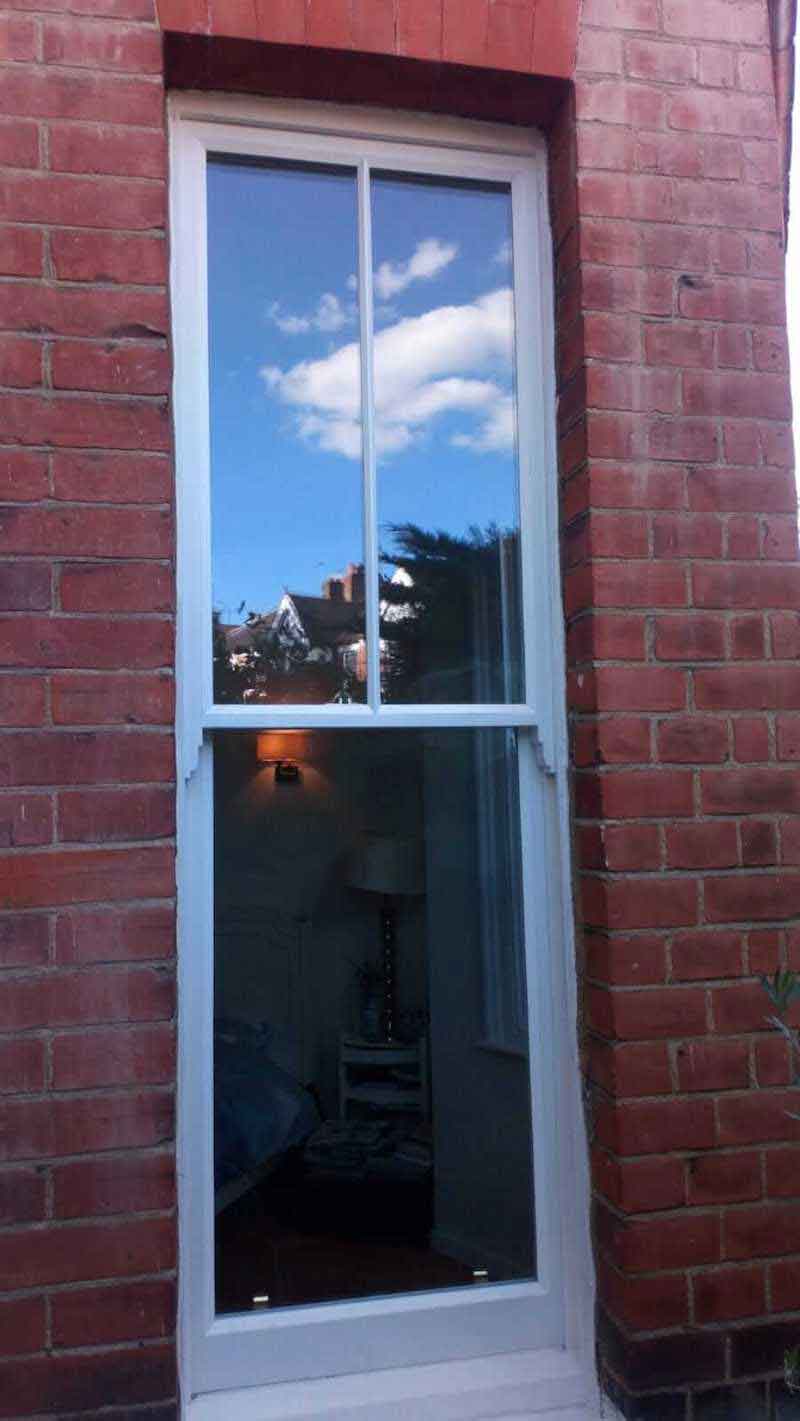 Because of the way search engines work I should also mention I've had potential customers from other specialists call me up and literally ask me:
'Should a sash window company let me know my windows will need painting after the draught proofing system is installed?'. Well the first thing is, please don't call me. I do not involve myself with other company installs. I simply am not interested in any type of consultancy. That includes condemning of other people's work. I like to stick with the positives. Reading this article (assuming you have freshly painted windows) you're already wise to the potential issue and can plan accordingly!
5. We all need some draughts to keep our property dry.
If you seal your home and do not allow moisture to escape there's a couple of serious problems that can and will occur and so some windows make no sense to draught proof:
Mouldy walls. Not only is this unsightly, fungus and bacteria growing in your home is far from healthy. The only way to solve this once it happens is a good clean up and ventilation. A room that always has high moisture content in the air is the bathroom. Granted draught proofing will stop it being cold whilst you're using the shower. That noted, you'll certainly have to open the window and let the moisture (and heat) out afterwards. If you don't do well in the cold it might be worth draught proofing. But that said, if you can manage without, it's a great room to leave alone and keep money in pocket.
Condensation forming on glazing. We've gone through this largely already. Sealing the home increases temperature difference between inside and out. This causes more condensation. If you like to sleep with the windows open at night in the winter to avoid condensation(and there are plenty) then sash window draught proofing has diminishing returns for you.
6. Occasionally secondary glazing might be more suitable.
Let's be perfectly clear, sash window draught proofing can significantly reduce noise pollution. When your sash windows have large gaps and rattle in the wind they'll improve considerably. If they are just cold and not that draughty, they'll improve the heat but noise pollution won't come along all that much.
If your in listed buildings and looking for a solution other than replacement as that's just simply not an option on the table without huge amount of interaction with local listed officer (and there's a fair chance you'll be turned down for slimline glazing anyway, as much as I dislike the look, secondary glazing works incredibly well for reducing noise pollution. it also works more efficiently at heating the home as well. Here's a look at secondary glazing, it's pretty ugly stuff: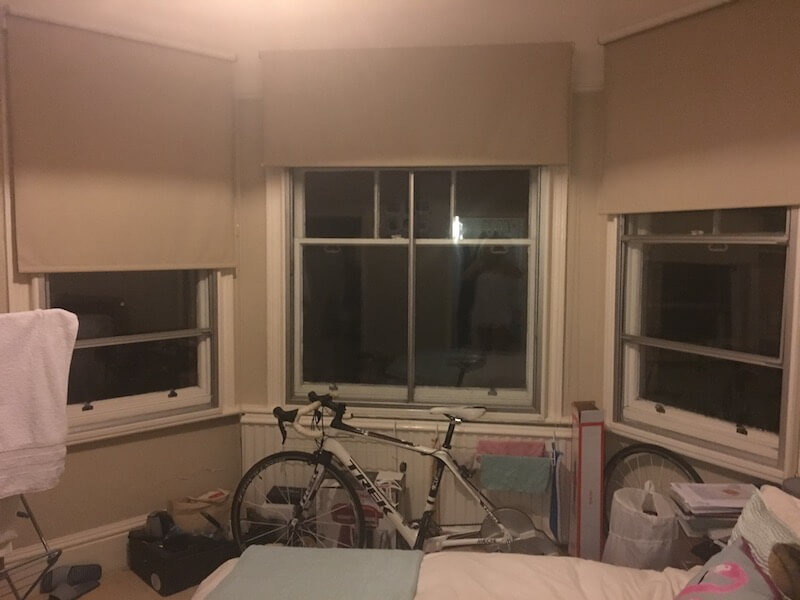 There is a problem though in my eyes. Secondary glazing is unsightly and always results in a huge build up of dust behind the unit. That's assuming it's a cheaper fixed panel. We rarely get round to removing it to clean periodically as it requires. Thinking as I write, it makes sense to draught proof as well if you have the budget to solve this problem.
7. Some sash windows are better off sealed shut entirely.
Again this sounds contradictory. We read all the way down this article about keeping things vented but actually I am referring to bay windows.
Take a typical three sash window bay on the ground floor. When all three sash windows functioning you increase the likelihood of a break in. The side sash windows that are more obscured from the road front are far more vulnerable. Having them all functioning also triples the amount of draught proofing.
You could seal the two side windows fixed. This would leave the larger middle functioning. It would reduce the cost of draught proofing. this bay from £900 or so down to just £300. Also some people install a vent which is a little unsightly whilst sealing a window but it does work and will reduce costs.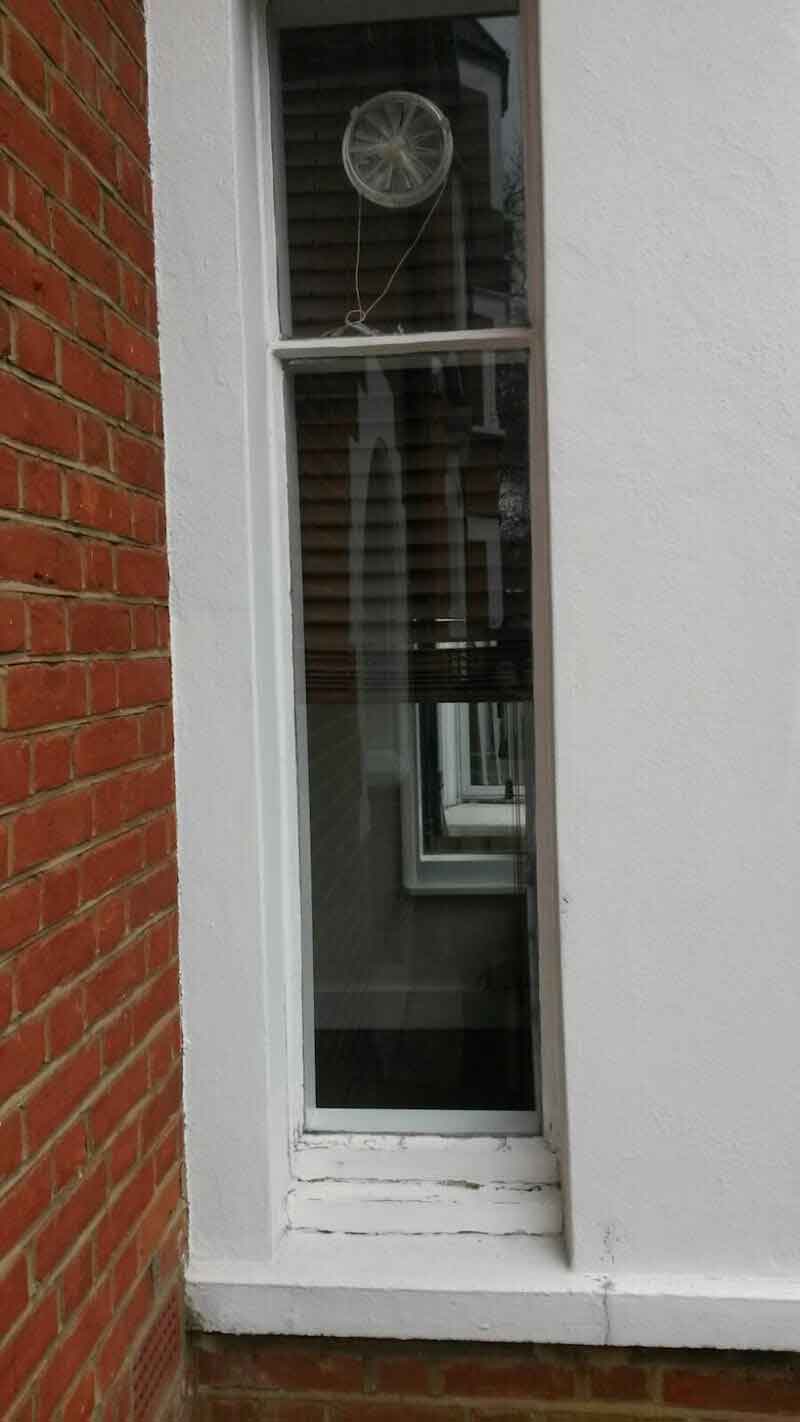 If you have many bay windows this is a considerable cost saving. I would advise on windows elevated beyond ground floor to stick with functioning draught proof sash. Unless there's maintenance plan is in place, it's always handy to have easy access to the sills. A lick of paint every few years helps keep the moisture out if you don't have any major external redecoration plans lined up or scheduled periodically. So having the sash function and draught proof facilitates that nicely.
8. It's too easy to incorrectly install draught proofing.
Sash window draught proofing is no small investment. As a reputable sash window specialist we try to be cost effective. We work hard to maintain a sash window draught proofing system under £300 as an average cost on a run of windows. It's still a lot of money, even more so if you have a home with many windows. It might worthwhile to check our prices to help you budget for sash window work. If not, DIY sash window draught proofing might work for you.
This means installing sash window draught proofing badly is a very expensive mistake. This year, I popped round and surveyed a property that had previously had another reputable London sash window specialist draught proof their ground floor bay window. Our client researched in more depth and realised they could have the same service for considerably less. There was no issue with the look of the job. Genuinely, the client was happy with the service they had previously been provided.
I wasn't perfectly happy with it though because I know they paid upwards of £450 a window. The parting bead had the incorrect draught seal installed. There's no way it would have eliminated anywhere near the percentage of draughts possible. They had used a small 5 or 5.5mm brush pile. A medium of 8.5mm would have fit far more snug. Now don't get me wrong, this was a neat and tidy install. The issue is it just wasn't performing as well as it should. I am certain this was an installer that knew what they were doing. More significant errors are easy to make with a lack of experience. This might not be so much of a reason to avoid sash window draught proofing. More likely it's a nudge fully research who you're using to do the job.
9. Loft insulation beats sash window draught proofing pound for pound hands down.
If you're on a limited budget then make sure the loft is topped up nicely. Beyond ten inches of insulation isn't effective. Any money left from the loft insulation install will be well spent on sash window draught proofing as it's the next best thing pound for pound.
To summarise sash window draught proofing, it's not that the product itself is a bad thing. Quite the opposite, it's one of the biggest and best upgrades to London Victorian homes in the last fifty years. The problem is knowing when it's good value for money, and when it will improve your home. I hope the information provided has cleared up all possible considerations for you. If I've missed a variable I would love to hear from you.